NAV200 – Delphi's Newest Portable Navigation System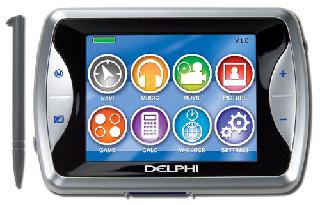 If your vehicle doesn't have the optional navigation system because you didn't afford to purchase one, Delphi just got new a hand held navigation system called the NAV200 for only $349. The NAV200 contains advanced navigation and entertainment features like real-time traffic information, MP3 and movie player, and games. The device can be controlled by a stylus or by your own fingers through a 3.5-inch LCD touch screen.

Included in the NAV200 package are:
* NAV200 unit with stylus pen
* Cigarette lighter adapter
* Windshield mount
* Dashboard mount
* DVD with user manual and backup map data files
* 1.5 GB SD card preloaded U.S. and Canada map SD card
* Quick Start guide
* Customer Service Card "Call Delphi"

Features of the NAV200 include:
* Powerful 400 Mhz processor for fast routing
* 1.5 GB SD card preloaded with NAVTEQ maps of the U.S. and Canada
* High sensitivity GPS antenna — SiRFstar III
* RDS real-time traffic ready
(optional TMC accessory required)
* MP3 player, movie player, photo viewer, game, world clock and calculator
* On the go flexibility with 3.5" bright, anti-glare, full-color LCD touchscreen
* Built-in 3-hour rechargeable battery

Now if you're looking for quality auto parts like Ford parts or Toyota parts, you can find them at Auto Parts Deal.