New Volkswagen Touran Revealed!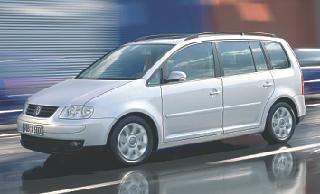 Volkswagen has revealed photos showing the refined Touran compact MPV (multi-purpose vehicle) before its world debut at the 2006 Paris Motor Show this month. The main highlight of the Touran is the very first ParkAssist system installed on a Volkswagen vehicle that enables parking guidance system. ParkAssist system uses front and rear ultrasonic sensors to detect available parking space and a control unit to calculate the maneuvering path. The driver will just accelerate and brake while the system automatically does the steering.

Numerous refinements and additional new features were given to the Touran including:

* Twin-charge engines which employ both a turbo and supercharger
* ParkAssist System that enables automatic parking
* New radiator grille and eye-shaped headlamps based from Volkswagen Eos
* New 'Magny Cours' 16-inch alloy wheels
* Six engine options – two petrols and four diesel engines
* New fabrics and a stainless steel trim
* MP3-compatible radio/CD player

Volkswagen Touran will go on sale early in 2007 but unfortunately, it is only available in UK markets.
Why not update your Volkswagen parts from Auto Parts Deal instead.
Comments
Add Comment
Search This Site

Syndicate this blog site

Powered by BlogEasy


Free Blog Hosting