CHEVROLET Launches All-new and Affordable 2007 Aveo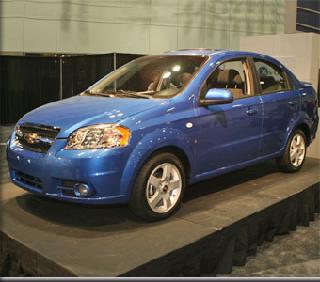 After waiting for more than a year, Chevrolet has finally launched the all-new 2007 Chevrolet Aveo Sedan to the public through a webcast from Seldom Blues restaurant at General Motors' Renaissance Center in Detroit.

The webcast also featured comments and remarks from Chevrolet officials. Ed Peper, Chevrolet General Manager said:


"Just as we no longer operate in a one-size-fits-all vehicle market, we are adapting our marketing strategies to reach our customers in the most effective way. The target audience for the Aveo sedan has grown up with the internet, and 75 percent of this audience spends at least two or more hours each day online. To reach this digital generation, we need to go where they are."


The 2007 Aveo Sedan comes in two model grades – the Aveo LS and Avel LT. Both models are equipped with high quality standard and optional features of Chevy models including air conditioning, driver and front passenger airbags, side-impact airbags, power windows, steering wheel audio controls, and other accessories to choose from. The 2007 Aveo Sedan also got some refinement on the exterior including the wheels and spoilers. To match the glossy exterior, designers provide a roomy interior with comfortable seats.

Affordability is a significant factor. Even with exceptional features, the base MSRP for the 2007 Chevrolet Aveo starts at $12,395 for the Aveo LS and $13,925 for the Aveo LT. Sounds like a bargain for me.